PMAMM Goal Getting Series with Kristi Fickert
---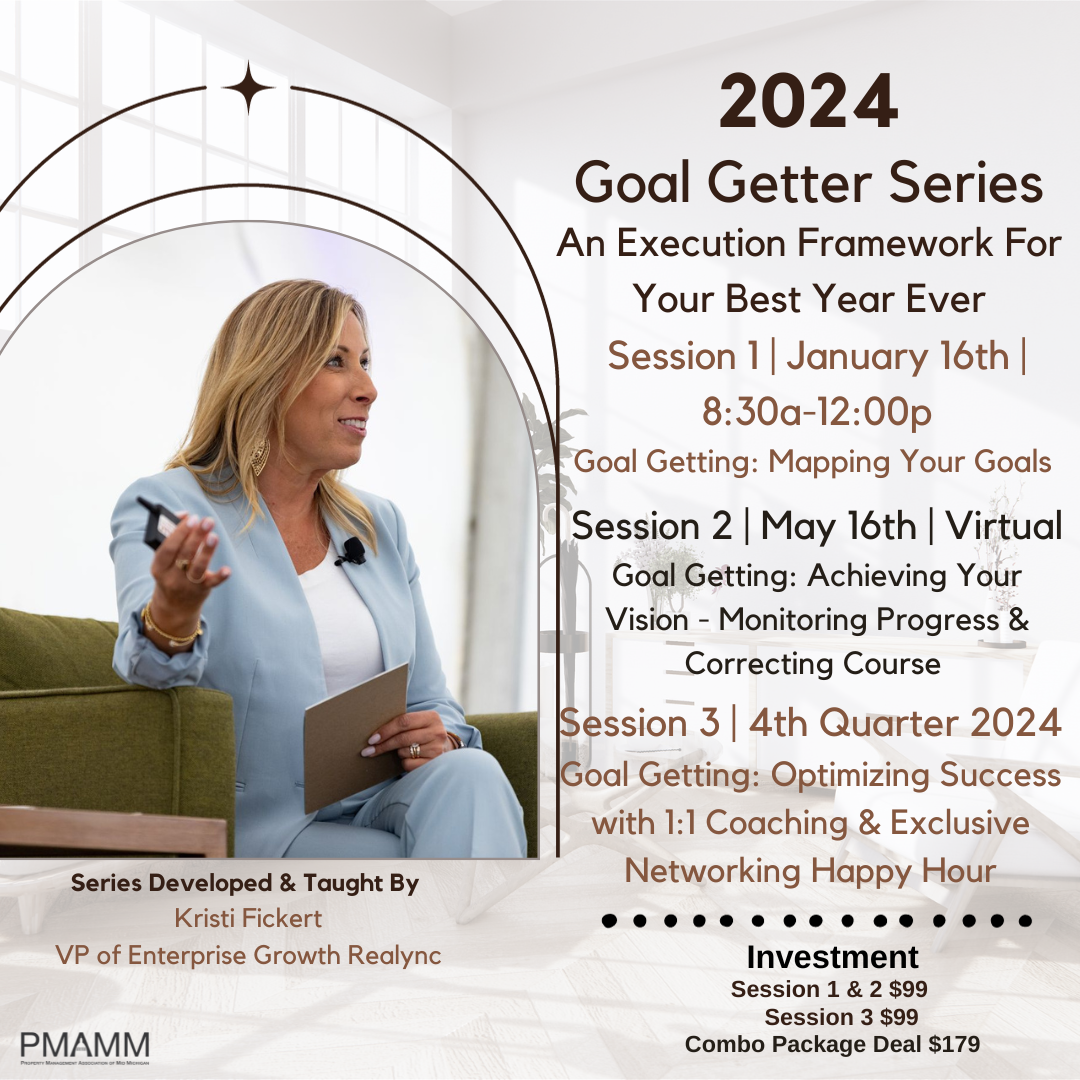 Session 1 Title: Goal Getting: Mapping Your Goals | In Person - Workshop
Unlock your full potential and take control of your future with our digital vision board and goal setting masterclass. In this immersive 3 hour workshop, you'll learn how goal mapping works and will discover the art of turning visions into working action plans that turn into habits, which ultimately unlock greater success. No matter your role, identify goal gaps, best-practices for monitoring goals and discover new (free!) tools to help you stay on track. Whether you're aiming to excel in your personal life, advance in your career, or lead your organization to elevated levels of success, this workshop will equip you with the tools and knowledge to make it happen.
Session 2 Title: Goal Getting: Achieving Your Vision - Monitoring Progress & Correcting Course | Virtual
In this second session of our Goal Getter series , we will explore how to measure your progress to the goals you set in session #1 and how to make necessary adjustments to stay on the path to success. Compare and contrast progress as we dive into the process of comparing your initial vision with your current progress. Identify areas where your goals are off track and learn strategies to course correct and stay on the right path. Identify what's working as we explore the positive aspects of your goal journey plus, understand how recognizing your successes can help you reinforce those efforts and make them a consistent part of your strategy. You'll also discover how both meeting and missing your goals can provide insights into your strengths and weaknesses. Use these reflections to adapt your approach and set yourself up for greater success in the future.
Session 3 Title: Goal Getting: Optimizing Success With 1:1 Coaching + Exclusive Networking Happy Hour | Q4 2024
In session #3 of our Goal Getter series, you'll have the opportunity to schedule your own personalized coaching session with industry expert Kristi Fickert. Get exclusive time to discuss your goals and performance one-on-one and get insights that are customized to your organization, position and objectives. Gain insight through Q&A, get resources that are specific to your company and situation and clarify next steps to help you finish the year strong. End the day with our networking reception, where you'll have the opportunity to mingle with both our Goal Getter Series expert and your industry colleagues, to celebrate your wins and to keep the goal getting conversations going.